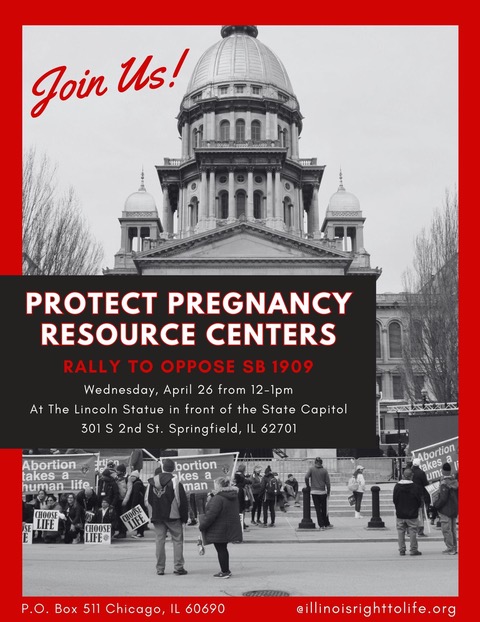 "Protect Pregnancy Resource Centers"
Rally at the Illinois State Capitol
April 26 at 12PM
Illinois Right to Life has announced a rally to oppose Illinois Senate Bill 1909. This bill has passed in the Senate and is now before the state's House of Representatives.
SB 1909 would make it difficult if not impossible for pregnancy resource centers to operate. Without defining "deceptive acts or practices," it would subject such centers to civil liability for engaging in such practices. It provides for similar civil liability for sidewalk counselors who stand outside abortion clinics. This bill would also allow the Attorney General to investigate pregnancy resource centers even in the absence of a particular complaint and impose penalties of up to $50,000. 
The rally will begin at noon on Wednesday, April 26 in front of Lincoln Statue at the Illinois State Capitol, 301 S. 2nd St., Springfield, IL  62701. Mary Kate Zander, Executive Director of Illinois Right to Life, will be among the speakers.